Natalie W.
I had done a lot of research before deciding to purchase this product! it does what it says! I love this stuff I love the way my joints feel! My skin looks amazing along with my hair and nails but I have lost weight and inches.
Michelle Y.
I started obvi burn caps and I love them!! I felt an overall good mood, full and an increase in energy. I already purchased next months and can not wait to see where this journey takes me!! #Obvi #Journey
Samantha K.
I was just looking for collagen in a pill form and came across these. Just a bonus that I can replace my fat burner with these too!
Amber S.
Love this stuff! Helps me make it thru my fasting!
Jamie U.
This is my favorite fat burner to-date! It helps to curve my appetite and saves me from cravings. I have a very sensitive digestive system so it is very important to me that what I take to help me lose weight doesn't tear my tummy up.
Courtney B.
I am new at this and excited for my new journey! I have already taken it for (3) days and I am not even feeling any of the "snacky" cravings! I am HOOKED! 😀😀😀
Allison F.
These give me so much energy!!!!! Ive been using these for 2 weeks and I have better skin more energy and I have lost 5 lbs plus they taste like Berries!!!!! These are a WIN WIN I highly recommend
Rebecca P.
I love my obvi collagenic burn! I have lost 14 pounds so far and many inches. This helps my energy and curbs my appetite for sure! I am continuing this for now and see where it goes.
Erin V.
I started obvi burn caps and I love them!! I felt an overall good mood, full and an increase in energy. I already purchased next months and can not wait to see where this journey takes me!! #Obvi #Journey
Christina Z.
Works great, can see a change in my skin and hair. My hair isn't falling out by the handfuls. Great product.
Alice M.
The Obvi collagenic Burn is working great for me. I feel better and have less hot flashes. I can see the difference in how I look and feel!
Angela C.
The energy I get from burn is the best! I take them everyday 2x a day, well worth to try for yourself.
Denise B.
I absolutely love this product! Gives me the energy to tackle my day and 2 year old and less aches/pains, all while burning fat!
Brittany J.
I've been using Obvi for 5 weeks now, I could notice a difference with just one capsule, week 2 I started taking 2 capsules and I feel amazing, mood improved and my energy has been great! I can't wait to see what happens when I start the full daily dosage.
Jennifer X.
Love my obvi!!!! Tons of energy after only 2 weeks!!! Hair looks happy!!!! Thank you so much obvi!!!!!!!
Tiffany W.
I love everything about the Burn I feel more focused and it doesn't like give me the jitters and it makes it feel so natural. Due to some other health problems I have chronic fatigue but the burn capsules help so so much
Megan R.
I turned 40 this last year and noticed the weight I usually can keep off with exercise and eating healthy was not going away. So I decided to try Obvi collagen burn capsules and have lost 5 pounds. I definitely recommend it!!!
Helen R.
So far collegan burn has given me energy, less body aches and less headaches. Also, it makes me less hungry. I have been taking for about 3 weeks
Kelly O.
Love it! I can tell a difference in my energy levels, and my nails are growing like crazy!!!
Laura T.
I could tell a HUGE difference in my energy in the first week and FINALLY my weight is starting to slowly budge!! Excited to see what happens over the next few months!
Shannon S.
I am in love with this product and will be ordering more. I feel so much better and I don't get hungry. I am seeing and feeling the difference. Highly recommend
Kathryn E.
I love the Collagenic Fat Burner. It has helped me maintain my weight loss. I have tons of energy and it helps my appetite control. I take it with or without meals.
Andrea L.
This product is great! Feeling so much better! Losing weight, more energy! Can't wait to see how it helps me going forward
Brenda A.
I only been using this product for three weeks. I can see my waistline thinning out. I'm truly have been trying to lose ten pounds. And nothing work for me. This product helps reduce my cravings and I can see already some weight loss.
Stephanie Q.
I am LOVING this product! Gives me energy throughout the day without the crash, losing pounds & inches is a plus! I've noticed my hair & nails have grown as well! It's super easily to take & would recommend to everyone!
Jasmine H.
Started this last month, and im feeling amazing!! One more week til weight and measuring. But the bloating is completely gone. I have a TON of energy for the afternoon gym session, and this doesnt cause me to crash at all after the energy it gives me!
Cindy D.
This works! I've been taking it regularly as directed and I wore pants yesterday that I bought about a month ago and could not zip! Great control of appetite and replace my daily coffee for this energy booster
Diane K.
This product is AMAZING!!!! I never believe in weight loss products, but I tried this , and im beyond words greatful I did, down 17 lbs and counting, not to mention zero cravings for snacks and junk food , im sold !!!
Sarah L.
I was skeptical to try this product but this was very helpful after months of trying to lose weight. This gives me the energy to focus on work, gym and as a mom of 4. So grateful for Obvi and I will definitely continue this journey with Obvi products. Finally, I was able to get out of the 200 lbs.
Anna H.
Collagenic Burn gives me the "Get-up-and-Go" that I need in the morning without the usual jitters that other supplements I tried have given me. I feel much better, appetite is down, and energy is up. Well worth given it a try.
Melissa F.
This product does wonders for my weight loss journey and skin! I don't feel as hungry throughout the day.
Rachel J.
Love the burn capsules! I get a nice boost of energy, without being jittery, and they help with appetite control. Adding burn to my nutrition plan has helped me lose over 40 lbs.
Serena N.
I started using BURN, when I saw it on Facebook! I have lost over 150lbs in a little over a year. I am an older lady and I couldn't have done this well, my doctor was also happy 😊
Chloe G.
I can really tell a difference when I forget to take these. Without alot of modifications to my diet, I have already lost about 5 pounds in just over 2 weeks. I may be losing it slow, but as long as the scale is going down, I am happy :)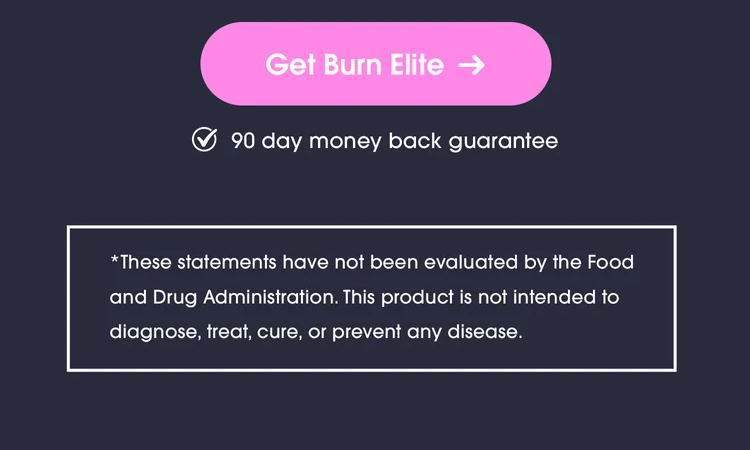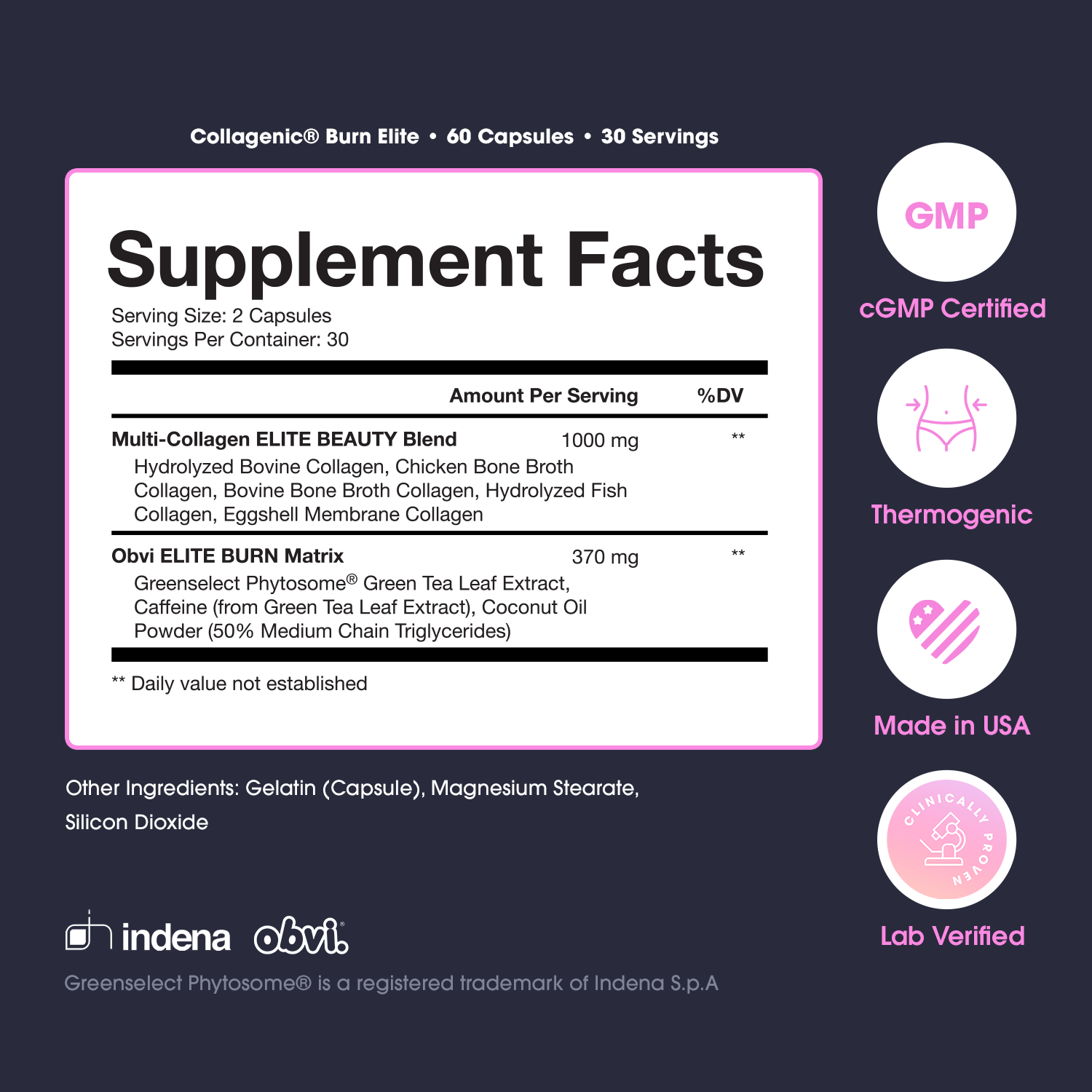 Recommended For You

20% Off - Black Friday Sale

Collagenic Burn Elite

1 Month Supply

($1.33 per serving)

$49.99

$39.99

90 Day Satisfaction Guarantee With Free Returns

Recommended For You

33% Off + Free Multi-Collagen

Collagenic Burn Elite

3 Month Supply

($1.11 per serving)

Free Shipping

$149.97

$99.99

90 Day Satisfaction Guarantee With Free Returns