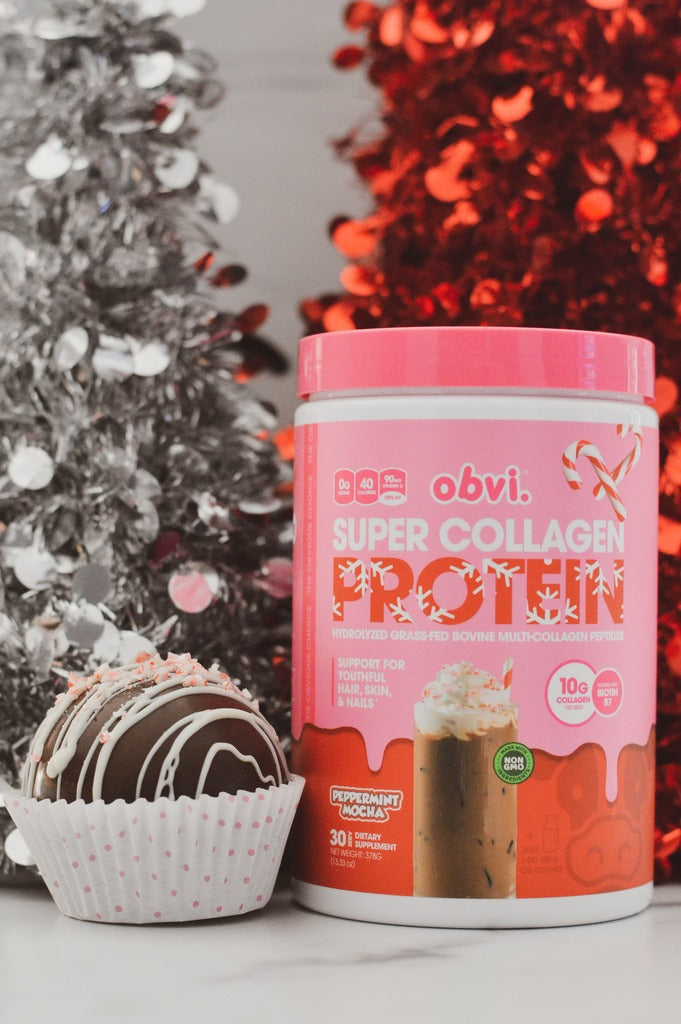 As the holidays approach, and the weather starts to cool, we all tend to indulge in some delicious hot chocolate! This season, hot cocoa bombs have become ever so popular. Instead of filling your chocolate spheres with hot chocolate, fill them with Obvi's Peppermint Mocha and have yourself a delicious Peppermint Mocha Bomb! It's a healthier alternative that doesn't compromise on flavor! It's been one of my favorites this season! Enjoy!
Tools:
2.5 inch Silicone Sphere Molds 
Spoon
Small plate
Ingredients:
Melting dark chocolate
Melting white chocolate
Obvi Peppermint Mocha Collagen
Crushed up candy cane or peppermint candy
Marshmallows
Instructions:
Melt dark chocolate in microwave in 15 second increments so it doesn't burn
Pour a spoonful of the dark chocolate in the sphere mold and use the back of the spoon to evenly spread it around the entire sphere. Flip it over to pour out any excess chocolate
Cool in refrigerator for 10 minutes
Gently remove chocolate from the mold and fill half of the spheres with 1 scoop of Peppermint Mocha collagen and a few marshmallows
Heat the back of a small plate or bowl with hot water or until the plate is hot to the touch. Take the empty half of the sphere and rub on the hot part of the plate to melt the edges to serve as glue and attach it to the half of the sphere that is filled with the Peppermint Mocha
Melt white chocolate in microwave in 15 second increments and drizzle the melted white chocolate on top using a spoon or piping bag and top with crushed peppermint
 Once chocolate is set, drop in a cup and pour hot milk over it and enjoy!
You can get creative with it and use any toppings you'd like! You can even make the bombs with white chocolate, and drizzle with dark chocolate! Feel free to try any combination! We used Ghirardelli Chocolate Melting Wafers and crushed up candy cane for this recipe! Give it a try and enjoy!
Head over to myobvi.com/ravskitchen and use code RAVSKITCHEN15 for 15% off your order!
For more creative recipes be sure to checkout RAVSKITCHEN