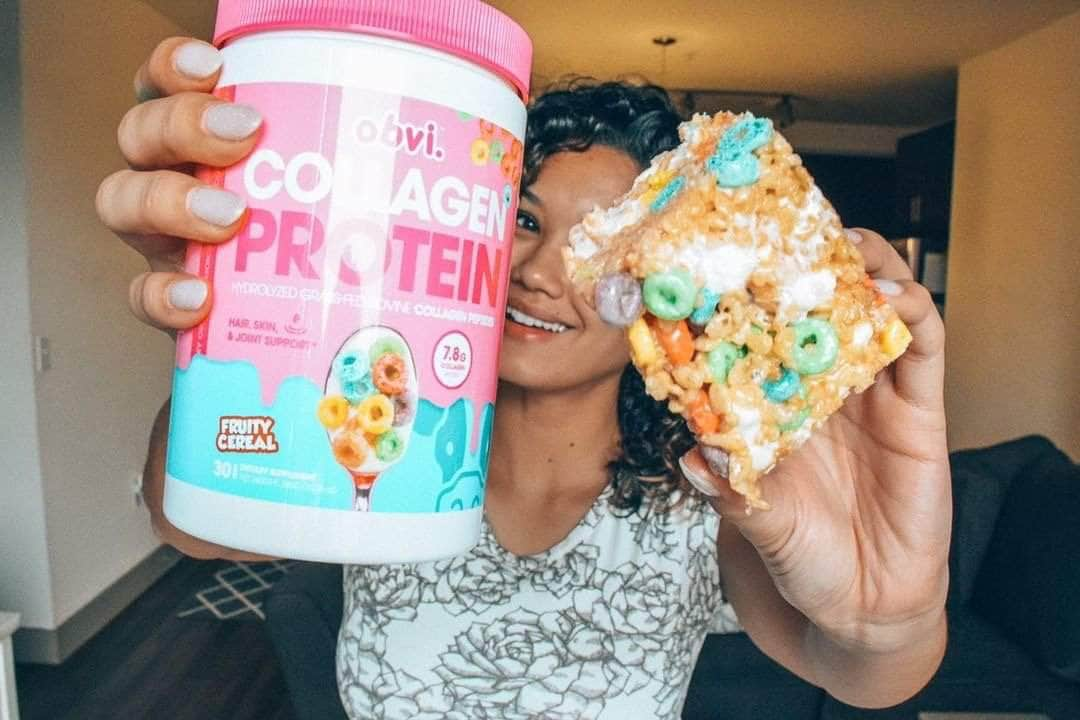 Collagen Protein is a little bit different than the protein you'd take to build muscle mass. Here are five benefits to collagen protein:
You'll have stronger and healthier hair
Your skin will be radiant
Healthy nail growth
Joint pain and soreness will be alleviated (bone support)
Increased gut health
Recently I had the opportunity to try Obvi Collagen Protein. The flavors intrigued me the most. Typically, most collagen protein brands are flavorless (which isn't necessarily a bad thing). Obvi comes in two flavors–Fruity Cereal and Cinna Cereal. Normally, I'm a Cinnamon Toast Crunch kinda gal. This time, I went for the Fruity Cereal. Below is my full review of Obvi Collagen Protein. Click here to shop and scroll down for a delish Rice Krispy recipe using Obvi Collagen Protein.
Flavor
When I say this collagen protein tastes exactly as the flavor says–I am not kidding. It tastes amazing blended with almond milk and ice. If you're looking for a good, quality collagen protein and don't have the time to create your own flavors–Obvi is perfect for you. With flavorless collagen proteins, you have to get creative. With Obvi, the great taste is already there without the guesswork. If you have a sweet tooth, you need this protein.
Texture
There's nothing worse than chunky collagen protein powders that don't dissolve. Obvi is made from quality ingredients and dissolves really easy. Not only is it lab verified, Obvi is gluten free, non-GMO, dairy/lactose free and Keto-friendly. If you're vegan–Obvi is not for you.
My Collagen Protein Results
It's been about two weeks since I began incorporating Obvi into my health routine. In the short time, I can say that I've seen visible changes with my nails and hair. My nails are growing like crazy. Recently, I got my nails done with the dip powder and after one week, I already desperately needed a mani. Normally, I'm a person who paints my own nails but they've become so brittle and thin. With how quickly my nails are growing, I'm looking forward to doing my own nails again. Also, my curls have been a lot more manageable and cooperative. Finally, I noticed that my eyebrows are growing faster (I know… Random!) and the areas of my eyebrows that were once sparse are slowly starting to grow back in. I'm excited to see what kind of results I get after a longer period.
Blog by our amazing guest collaborator Candice Ann. Follow Candice Ann on Instagram and Facebook